Wait, did I just type week 40? How are there only 12 weeks left in 2015? This, I have to admit, has been a rather dull photo week. It's been a weird, kinda sad, super stressful and odd week with some really great moments sprinkled in for good measure. I'm looking forward to things being better going further into fall and October. This is definitely one of the boys' favorite time of year with Halloween coming up. They love checking out spooky decorations and picking out their costumes -which we've yet to do. Yikes! Running out of time and this month is getting ready to fly by for us.
274/365: Thursday, October 1st. Theo is getting interested in video games! He'd been asking about going bowling so I suggested letting him try it on the Wii. He loves it and he's rather good at it! As a bonus, his victory dance is pretty cute.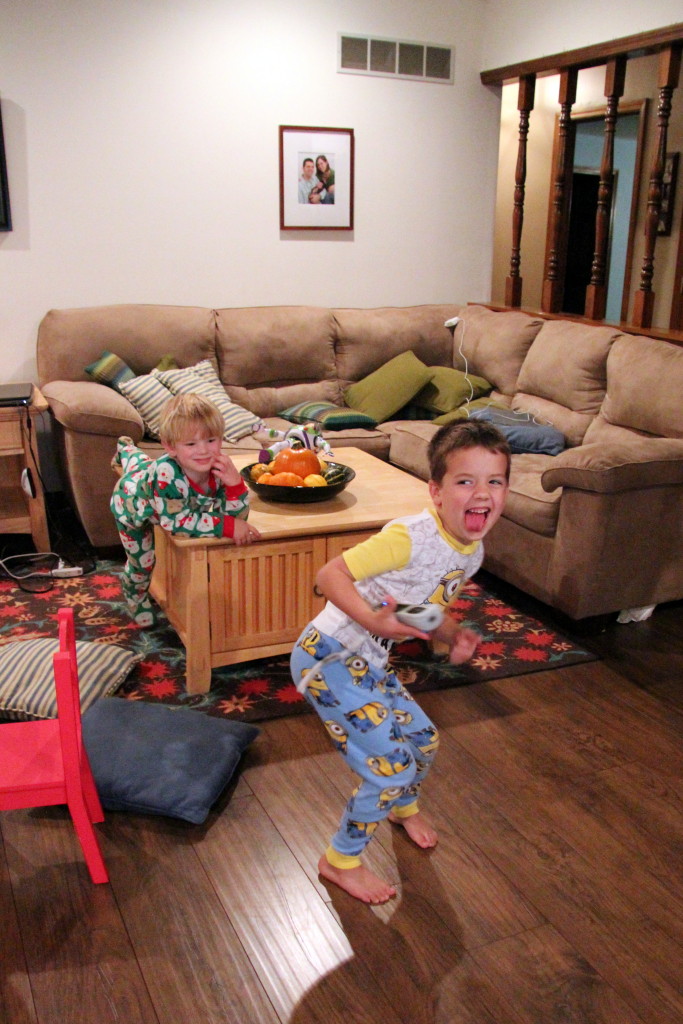 275/365: Friday, October 2nd. We went to the local high school's homecoming parade to show our school spirit and when I pulled my DSLR to snap a couple pictures of the festivities, I found out that my battery was dead. Boo. We talked about going to the football game but it was windy and started to sprinkle so we decided to go to the movies and see Hotel Transylvania 2 instead. It was weird to see the boys running around with other kids and hearing kids who are complete strangers to me calling Theo's name and chasing after him. It was a great family night! Dexter sure does love his blue raspberry icees & popcorn at the movies. I snapped this picture on my phone.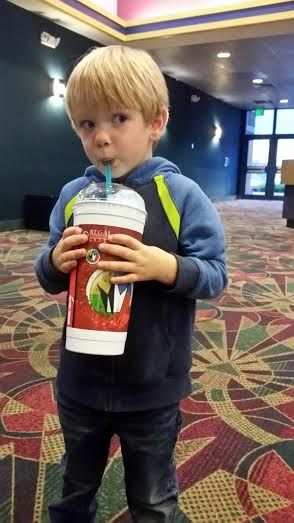 276/365: Saturday, October 3rd. A brief break in the middle of a day FULL of fighting. It was a weird, rough day. I knew I needed to go shopping for myself and for the boys. All week I had been looking forward to my day of shopping ALONE! But the whole 5 hours I was gone, I was rushing through the racks, checking the time, and feeling anxious and frustrated. I couldn't find anything I really liked. I didn't want to spend money. It was so cold and rainy outside and the mall was blazing hot inside so I was burning up, plus carrying crap. I didn't have a stroller so every time I wanted to look at anything, I had to sit all my stuff down. It just felt like an ordeal. I was so looking forward to shopping alone and I felt nothing but loneliness. I needed a second opinion. I missed my kids (who were home fighting). I didn't feel cute at all when I tried things on. I tried to buy stuff for the boys and every time I held something up, I questioned if they would like it and if it would fit. I am not looking forward to taking them clothes shopping but I guess that's what we're coming to. Once I got home I immediately felt relieved and at the same time, mad at myself for not being able to enjoy my time. I started cleaning and cooking and playing with the boys and instantly felt better.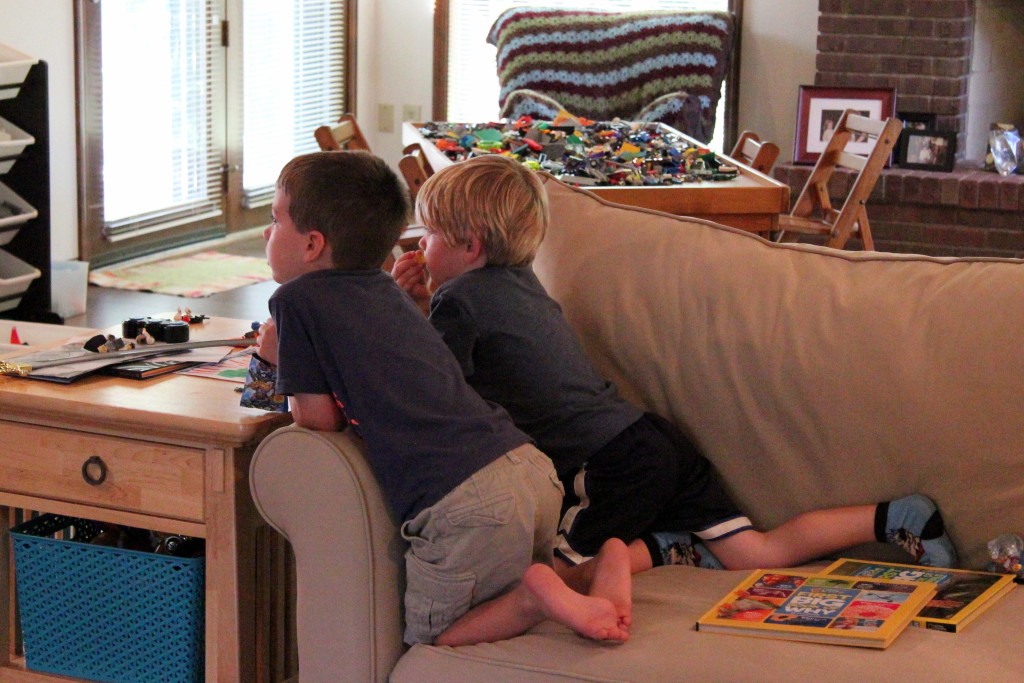 277/365: Sunday, October 4th. Sunday turned out to be a beautiful day here in central Indiana. A perfect day for open windows, sidewalk chalk in the driveway, the smell of fabric softener wafting through the windows from the vent in the basement, candles burning, food cooking, grocery shopping, and all that other good Sunday stuff. For my instagram #souperbowlsundays challenge this week I made Hot Eats & Cool Reads' Beefy Tomato Macaroni Soup. It might be my favorite soup so far. Looks like chili but no beans and totally different flavors. Very tomato-y and hearty. The leftovers tasted even better than the night I made it.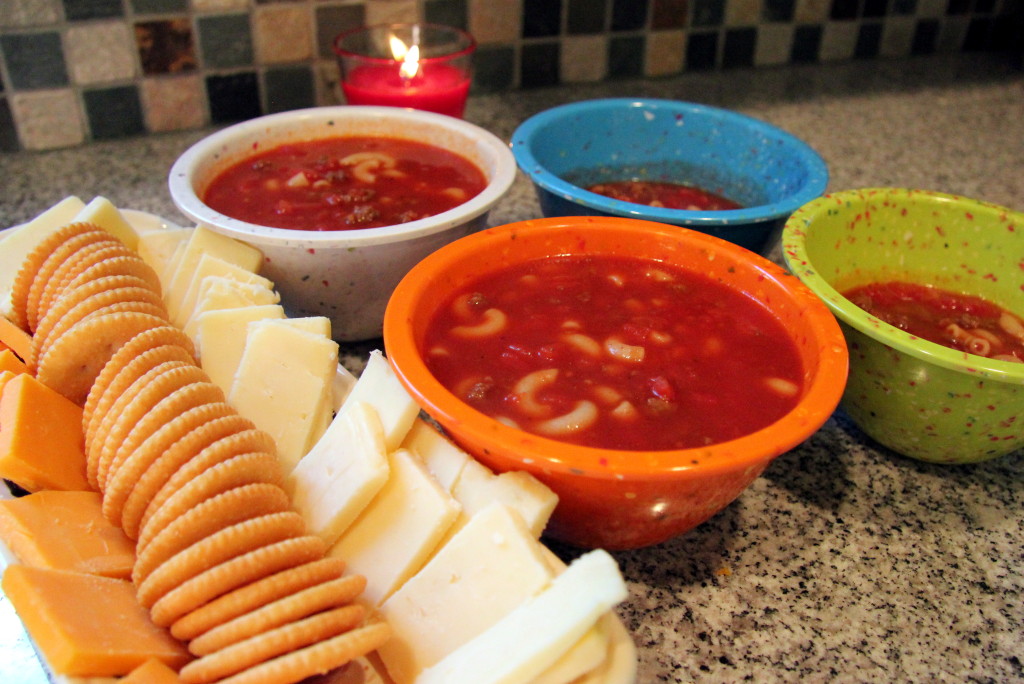 278/365: Monday, October 5th. UGH-the start of a very busy, hectic, and stressful work week. It started off by rushing the boys to their pediatrician's office at 8am for their Flu Mist vaccinations and ended with me working late. Ironically, this was the domino setup Ryan designed with the boys that night. Theo and Dexter just haven't been getting along very well lately.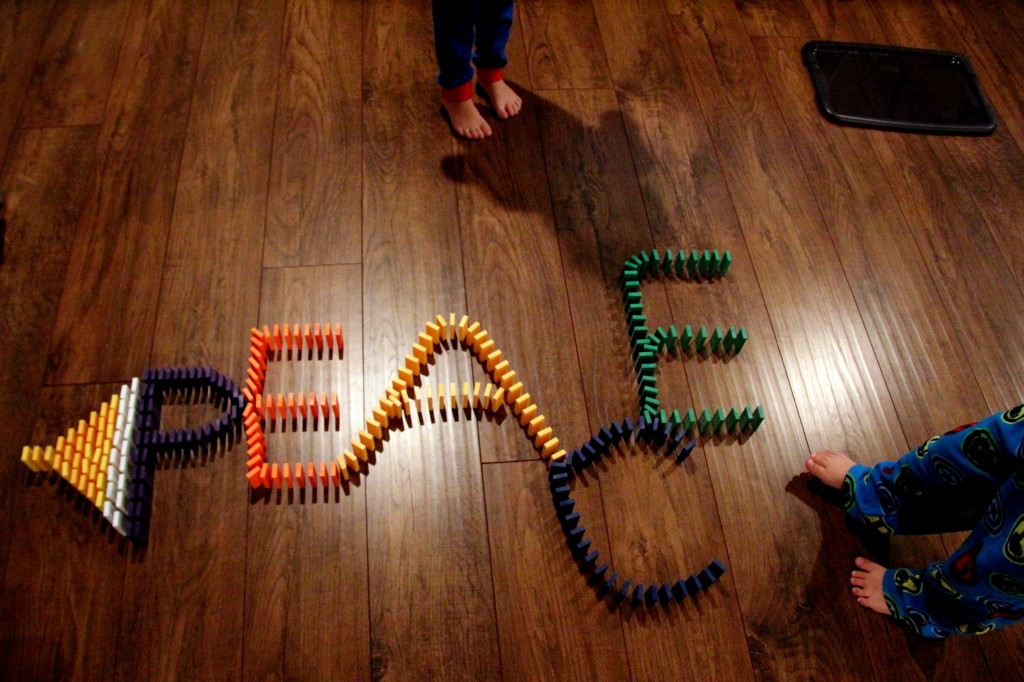 279/365: Tuesday, October 6th. I took a brief brain break from work to meet my sweet friend and her even sweeter baby (if that's possible) at our favorite local spot for lunch. Baby's first trip to Ben's! Ryan's parents stopped by Tuesday night with some fall and Halloween decorations for me to look through and to visit. We ended up all going out to eat, which was nice. Unfortunately, Dexter woke up Tuesday super congested with watery eyes and a runny nose from that stupid Flu Mist. I forgot that it's a live virus and that Dexter probably had a similar reaction last year. I'm thinking about making him do the shot next year. He was miserable by bedtime.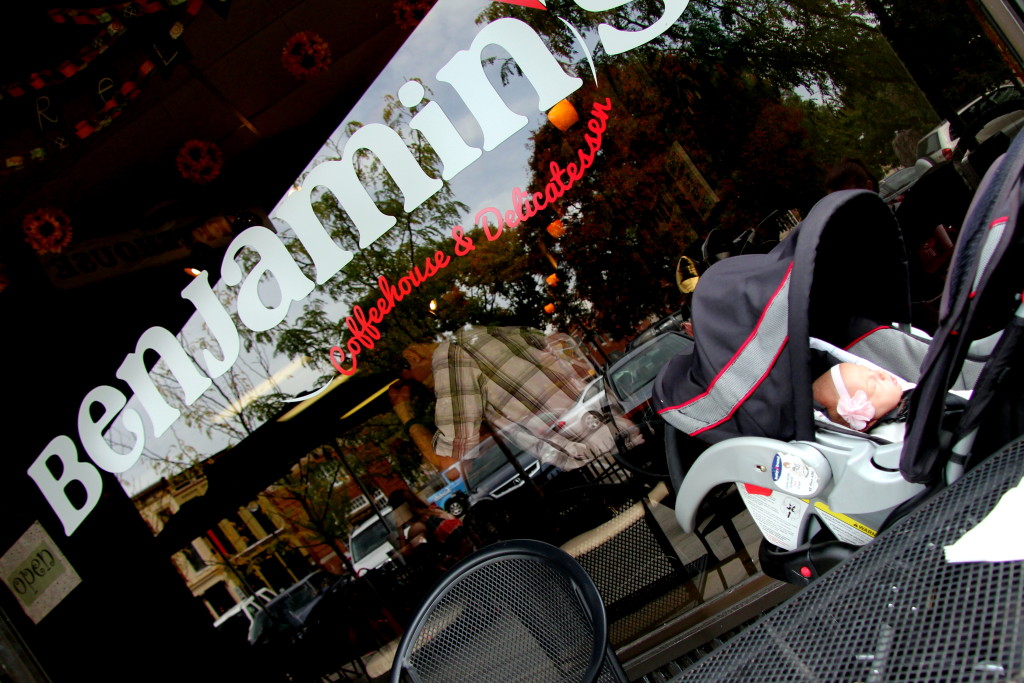 280/365: Wednesday, October 7th. Even when he's feeling like crap, you can still get a smile out of him. His little face is raw from wiping his nose so much. His eyes had stopped watering but still congested and nose still runny. He insisted on wearing scary pajamas and wanted to read this souvenir Haunted Mansion book from our first trip to Walt Disney World.  UGH. This topic probably deserves its own post but to sum it up, it was a really hard parenting night for me on Wednesday. We had actually had a GREAT day. Both boys had their parent-teacher conferences by coincidence on Wednesday and both teacher had great things to say about Theo and Dexter. We were so proud. The evening and story time progressed into bedtime smoothly. For whatever reason, Theo made a bad choice. After their lights went out, Theo apparently tried to get Dexter in trouble by telling him to scream. Dexter refused and Theo threatened him with "if you don't scream, I'm gonna hit you." Dexter still didn't scream, so Theo punched him in the nose.  I wasn't in there but I imagine it wasn't a light tap, but that Theo hit him as hard as his little fist could hit. I'm pretty devastated about it because it clearly was not impulsive – it was premeditated. He had time to make the right choice and he didn't. Dexter didn't retaliate and apparently didn't try to get out of the way of Theo's right hook. I know Theo's only 5 but it breaks my heart. Dexter certainly doesn't deserve to be treated that way and I can't stand the thought of Theo becoming a bully. To Dexter or to anyone else. I cried my eyes out and texted my friends. The general consensus is that it's partly normal brother / kid stuff but that it can't be tolerated. We've had serious conversations with Theo and right now the consequence is going to be that Theo sleeps in the guest bedroom for a week or so until he can earn back our trust and show more respect for his brother.  I felt really sad about it all day today and also had a very stressful work day. I will be glad to get off work at noon tomorrow.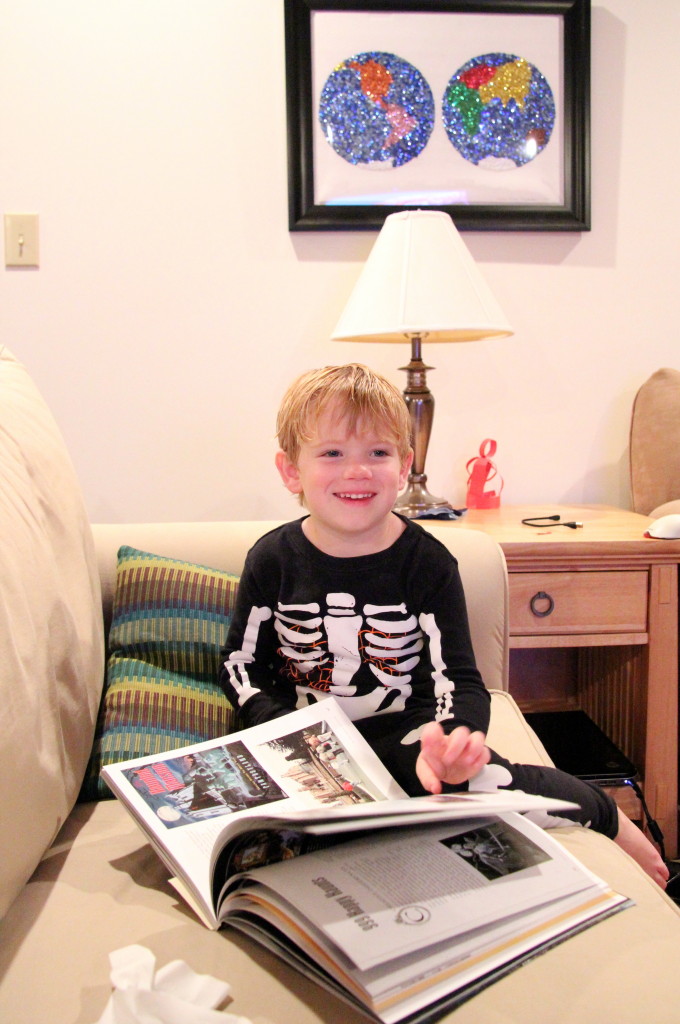 And that's the end of our weird week.
xo,
~C~